IN THE STUDIO WITH JESSICA CRADDOCK OF THE ARTIST MARKET CO
Creative Founders
December 31, 2017
We are delighted to have the opportunity to chat with Jessica Craddock, founder of The Artist Market Co.  As an artist and marketer Jessica has created her platform to help artists to create unique business models that help them stand out and make a living through their art. Jessica tells us about her free email series, her upcoming course and the fundamentals every artist needs to build their online business.  As you know, that is what we are all about here at Creative Founders, so without further ado, let's get started!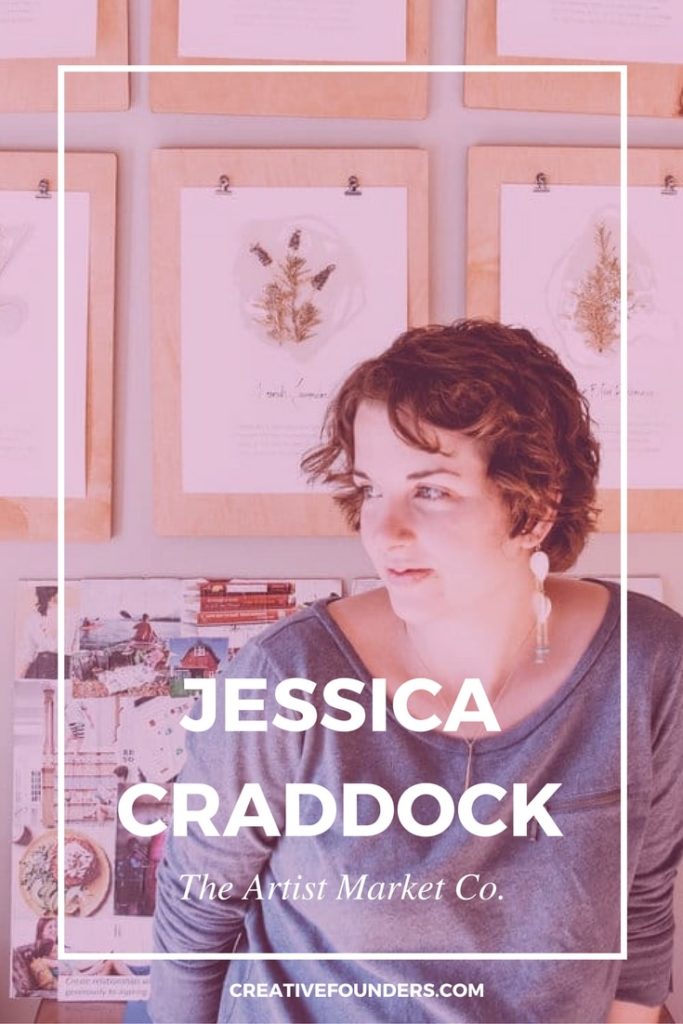 Hi Jessica, thank you for taking the time to chat with us! Can you tell us a little bit about the first time you really remember feeling passionate about art?

I've always been very creative. When I was three I toppled a bookcase to play train and drew elephants all over my walls in Sharpie. I never considered myself an artist until I started taking classes my freshman year of high school. They gave me the courage to think, "I might be good enough". The more I took the more enamored I was – to the point where I was willing to go into debt to get a degree that many people say you don't need. But I wanted it badly enough. I won't say it is for everyone, but I truly loved the assignments and the community, it was very worth it.

After you graduated university with a degree in Fine Art, what made you decide to go down the route of educating artists through your platform The Artist Market Co?

It was less a decision that was made than a meandering life path that led me to The Artist Market Co. I'm a serial learner, so I'll do whatever it takes to educate myself about whatever I need to know.
When I got out of art school, I found that marketing was an essential skill I was lacking. In my marketing job, I was always hovering over the graphic designers shoulders, fascinated with their form of art. Eventually, I used what I had learned from my marketing job and those graphic designers and started my own business creating websites. I realized through my customers that a website without marketing doesn't amount to much. It was here that my business evolved into more of a teaching role.
It occurred to me one day that if I wanted to be super effective, I would need to be more specific about who I was talking to. 'Fine artists' was the first thing that came to mind and the idea made me giddy. I was worried at first it might be too narrow, but I really believe the growth I've experienced is due largely to being able to empathize with artists and tell them what they need to know in a way that makes sense to them.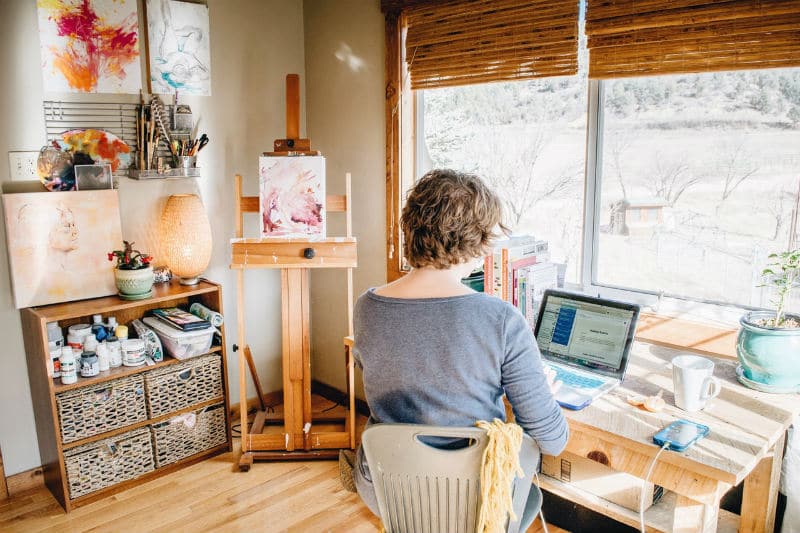 On your website, you tell a story about when you initially graduated from art school you were selling your work through galleries, and how after they took their commission you were left with very little for your hard work. How do you educate your community so they are not in the same position?

I have nothing against galleries. For some they are a great resource and I love visiting (and occasionally buying from) them, but it didn't make business sense for me. The 50% commission meant I either had to make and sell twice as much work or price it way higher than I was comfortable with. Gallery fees cover:
1) the physical space to be able to show your work and
2) promotion to their contacts.
I decided the internet provided the opportunity to do both without paying the fees.
My short-answer advice: Build your own gallery (aka website) and start collecting email addresses. These should be two of your biggest priorities, along with making more people aware that you exist. All of these can be done for small monthly website hosting fees and a lot of elbow grease.

From your experience, what are some of the biggest art business challenges you hear about that your community face?

There's so many! Things like… "I've never thought of myself as an entrepreneur", "How do I price my work", "I can't find the right way to promote myself", "There's just so much to do – how does one achieve these things within a set of parameters so that it doesn't take over"… and on and on.
The two biggest threads I've seen most consistently are "How do I know if I am good enough?" and "I don't know who would buy my art".
It breaks my heart reading some of the things these really talented people say. Making a living as an artist is hard. The problem is many artists want to create art, set it to the side, and hope people will search them out – cash in hand – ready to hand over their hard-earned money. No business, of any kind, works that way. Even artists have to learn how to promote themselves, make people aware they exist, prove their value to potential customers, etc. I've never heard of any art school teaching these things. For the life of me, I don't understand why – so somebody's gotta do it.
Through your platform The Artist Market Co you currently offer free email lessons to your email subscriber, can you tell our readers what they can expect to learn from signing up for your newsletter?

Over the past year since I started The Artist Market Co, I developed a free six month, super in-depth email marketing course teaching all the fundamentals I wish art school had taught me. It covers marketing 101, starting an email list, growing an email list, designing your website, and social media marketing through Pinterest and Instagram. Signing up for my email lessons also gives you access to my Facebook community where artists can get critiques, share advice on selling art, and make new friends. I used to offer personalized homework feedback to anyone who responded to specific emails, but my list has grown to the point where I couldn't keep up, unfortunately. I might be inspired to do a few more during slower times of year for me, like in the winter when I don't have any gardening or animal babies to keep up with.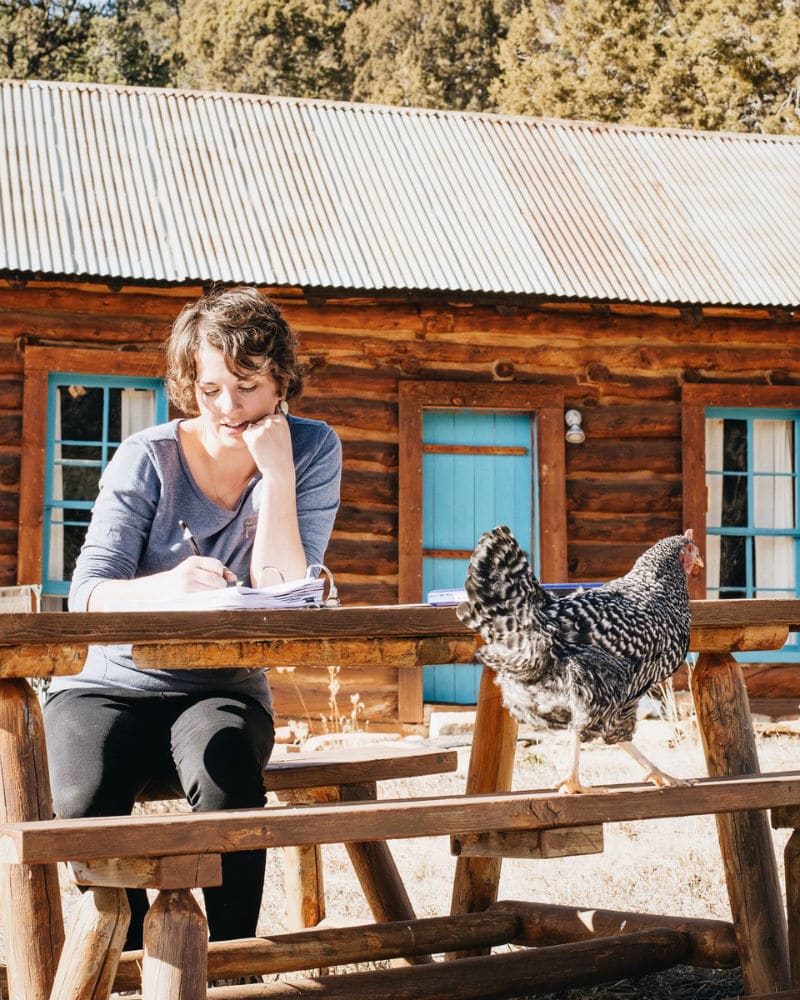 For an artist looking to launch their online business, what tools do you recommend they use to get their online platform up and running and why?

I definitely recommend setting up an email list first. You can start free with Mailchimp and upgrade to other services like Convertkit as you need more features. Add friends and family, past clients, people who have shown interest in your work, collect email address from people you meet – get as many as you can (just ask their permission to add them to your list first). That is the quickest and easiest way to start building up a customer base of people already interested in what you do.
Next, if you want to make any money, you'll need your own website and payment processor. Think of your website as a mix between an online portfolio, education about you and your work, and what your customer needs to know about working with you or buying from you. I tell my followers to use Squarespace because it is easy, beautiful, and makes it simple to collect payments. I also like WordPress sites for more tech-y people because it is so customizable. I haven't extensively tested Shopify, I've been pretty impressed with their sites.
Platforms like Zazzle that print your art and ship it for you might be ok for some extra, hassle-free income, but they take such a big cut you'll never make much money.
If an artist was going to choose to focus on one social media platform, what would you recommend?

I advocate for both Instagram and Pinterest for different reasons. I think Instagram should be used more as a 'connection' platform, where you can start conversations, get to know people and do a little advertising. Conversion rates, or people who sign up for your email list or buy your art, are one of the highest when people come to your website from Instagram because they feel like they already know you (if you are doing it right).
On the other hand, Pinterest is considered a social media platform, but I encourage artists to use it more like a visual Google. Add specific keywords to your captions so when someone searches for 'green ceramic hand-tossed bowl', yours will be in the results. Link your images back to your website where they can purchase or learn more about it.

As a creative entrepreneur yourself, can you share any tips on how you juggle life as an artist, entrepreneur, Mother and Wife?

Oof, that's hard. I write about it a lot in Instagram posts since that is always a daily struggle. I've found the things that make the most difference for me are:
1) Having one major focus at a time until it is complete, whether that takes hours or months.
2) Planning out what one thing needs to get done tomorrow before I go to bed, then sticking to it.
3) Eliminating as many decisions from my life as possible. I have an app that tells me what to wear when I wake up. I eat the same breakfast every morning. Dinners are planned for the week and lunch is always leftovers from the night before. Chore charts give each family member one 'big' thing to get done every day like vacuuming downstairs or washing all the sheets.
4) Doing double duty often. Art time is right brain exercise for me, playtime for my daughter Winnie, and the art is often used as a background for my social media. Bathtime is also learning time – I always make sure to listen to a podcast or watch a marketing video. When it is time to feed my pigs and chickens in the morning, I can jog to the barn and back for a quick workout.
The one thing I try not to do double duty on is working on my computer and taking care of my daughter during the day. That just leads to frustration for us both. Instead, I send her to daycare two days a week and cram everything I can into those hours and when she sleeps.

 
What is your vision for The Artist Market Co? How would you like to see your business develop?

I'm really passionate about teaching artists as much as I can get out there for free. I think everyone has a right to learn. Next year I hope to be able to put out a bunch of new blogs about problems people have asked for advice about.
Of course, no business will stay in business without income, so I'm working on an online course for followers who want the really primo, best-of-the-best advice. In a few years, if things keep growing the way they are now, I'd love to host a yearly tight-knit gathering where I live in Colorado with artist speakers, campfire get-togethers and family style meals.
We are excited to hear about your online course, can you give us a little teaser of what we can expect?

Oh, ya! I'm really excited about it. I'm always asking people what they are struggling with and one of the top answers has always been, "How do I find people who want to buy my art?". I developed a system that will help artists pick a specific group of customers that will already be interested in their work, then tailor the art to something the customer will just have to buy, without compromising their artistic vision. Finding that happy medium can be a really painful process if you don't know what you are doing so I made it into an actionable plan that anybody can follow.
I'll be making the first of the five modules free when it releases, so even if you can't afford to buy it, you'll still be able to benefit from learning a major fundamental of the process. If you want the first module delivered to you it's released, you can sign up at findyourgroupies.com

We believe the work Jessica is doing with The Artist Market Co is pretty amazing and a great resource, so please check out Jessica's work and show your support!

theartistmarket.com
instagram.com/artistmarketco 
pinterest.com/artistmarketco
facebook.com/groups/theartistmarketco
FREE DOWNLOAD: The Art of the Perfect Blog Post!
This step by step checklist outlines exactly what to do before and after you press publish to make sure you blog post gets the attention it deserves and the results you want!