HOW TO CONVINCE THE HESITANT ART COLLECTOR TO BUY YOUR ART ONLINE
Creative Founders
December 15, 2017
We recently re-read the Hiscox Online Art Trade Report 2017 and their analysis of the stages of the art buying process for the hesitant online art collector, and it got us thinking that every artist who is currently selling online should have a good grasp of why collectors might be nervous to make purchases and how you can make art collectors feel more comfortable purchasing your work online. We thought it would be useful to take you through the stages outlined in the report and share a few tips on how you can increase your online art sales.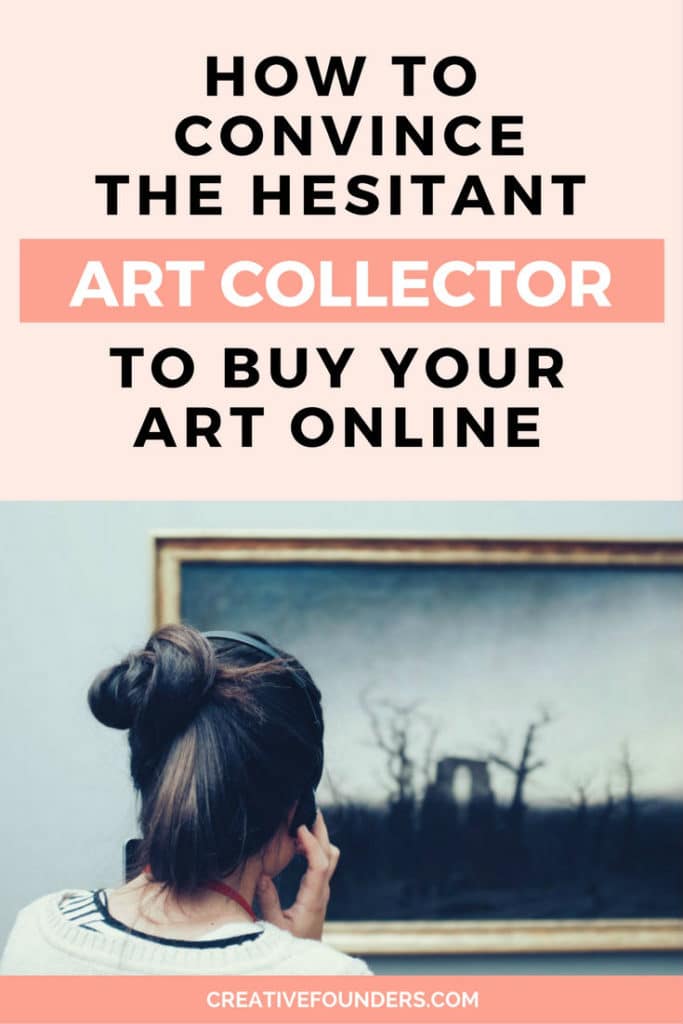 HOW TO CONVINCE THE HESITANT ART COLLECTOR TO BUY YOUR ART ONLINE
STAGES OF THE ART BUYING PROCESS
STAGE 1: AWARENESS

It goes without saying that creating awareness is how you get your artwork on the radar of potential art collectors, but where are collectors looking to find new pieces, and what attracts them to a particular artist or site?
Social Media

It should come as no surprise that social media is an important tool for artists, galleries and dealers. Social media really is a game changer, as it gives you the ability to market your art business to a wide audience for free. Not sure which social media is right for you? Here's an interesting piece of research from the Hiscox Online Trade Report 2017:
"Instagram has emerged as the most important social media channel in the art world, with 57% of art buyers surveyed saying this is the most frequent social media platform used (up from 48% in 2016 and 34% in 2015). In contrast, 49% said that Facebook was their preferred social media platform, down from 54% in 2016." – Hiscox Online Art Trade Report 2017
Seeing as how Instagram is all about the visuals, it's definitely a top social media choice for artists. However, Facebook, Pinterest, Twitter and even Snapchat can also be great for reaching different audiences. We know it can be overwhelming trying to manage a ton of social media accounts, so our advice is to narrow it down to a few that you really enjoy using, or those that you get the most response from, and then focus on doing those really well.
Having trouble keeping up with your social media posting? There are some great tools out there that can help you schedule your posts for the weeks or months ahead. We love Planoly for Instagram, and Hootsuite for managing multiple accounts. Both offer free versions.
Looking to grow your Artist Instagram account?  You may like these posts:
5 Things Successful Artists Are Doing On Instagram
Download Our Ultimate Hashtag Guide For Artists
Online Platforms

When driving awareness of your art business, you need to think about casting your net far and wide, and one way to do this is by promoting your work on online art platforms.
Artists often ask us if this is right for their business, as most online art marketplaces take a commission on the sales of your work. Our advice is: if you feel like the online platform is the right fit, then just being there can help get more eyeballs on your work. Even you don't sell anything, you will increase the chances of your artwork being seen. If they help you sell your work, all the better!
Now saying that we don't believe that online art platforms should be your only method of selling your art online. We truly believe that you should have your own artist website where you can sell your work directly. Online platforms should be additional support to your art marketing strategy.

What to consider when selling your art through an online marketplace:

There are tons of online marketplaces to choose from, so be sure to choose the ones that are the best fit for your art business in terms of style, pricing and the type of audience they reach.
Photography sells!  Make sure you have great product photography. If the online art marketplace allows you to showcase multiple photos, include a few extra shots to complement the original product shot. For example, you might add some close-up shots or styled shots of how your piece would look in particular setting.
If you're showcasing your work on a number of online art platforms, be sure to regularly check in on them and try to be consistent. Keep all your profiles up to date, especially when it comes to pieces that have already sold, and make sure the prices are the same across all platforms.
Word of Mouth

Word of mouth is probably the best marketing you can get, because people generally trust the word of friends, family or even acquaintances over something they happen to see in social media, online or in a print publication. People not only talk about great work, but also great experiences, so your personal interactions with clients can have a huge impact.
How to give your clients something to talk about:
Host an open studio day so potential clients can meet you and see your work. If this is not possible, then you might want to offer face-to-face Skype calls with interested fans so they can get to know you and ask you any questions they may have about your work.

Create thoughtful art packaging that delights your collector the first time they see their new artwork. This is also a great way to create a recognizable brand that showcases your unique personality.

Send handwritten thank-you notes to your collectors.

Get involved with other artists in your community to host open studio days, or partner with local brands who may be doing shopping events where you can showcase your art.
STAGE 2: EDUCATION

Educating your fans and collectors is a key part of the selling process. According to the Hiscox Online Art Trade Report 2017:
"A significant share of survey respondents, (79% up from 76% in 2016) said they wanted more background information about the artist and the object. 52% of online art buyers state that content is important to their platform choice (up from 42% in 2016). This suggests that buyers are looking for more than just buying artwork. In fact, they are attributing significant value to the educational experience."
Essentially what this means is that art buyers want to know about your story and the story behind your work. We are firm believers that storytelling is key to attracting new clients, as it helps you tap into their emotions, and emotions play a major role when it comes to making decisions about purchases. Not sure how to tell your story? This post on Why You Need to be a Storyteller to Sell Your Art might help.
While the stats in the Hiscox Report mainly refer to online art platforms, they are still relevant for your personal art website.

How you to use your art website to educate your audience:
Build an inspiring About page. Your About page is important because it helps you capture the attention of your fans and inspire an emotional connection to you and your artwork. Remember to let your personality shine through, and please share a photo! You can also include your artist bio and artist CV on your About page. For more info on artist bios, you might be interested in this post on Writing the Perfect Artist Bio.

Create compelling product descriptions: Whether you're selling your art on your own website or via an online art marketplace, product descriptions matter. Don't think that just because you have slick photography you can get away with only including info about materials, size and price. Your product descriptions are important for SEO, and they inform potential buyers about the story behind the piece.

Add an art blog: Ok, we can hear you saying under your breath that you're a bloody artist, not a blogger, so why do you need a blog? Well, Google loves seeing new content appearing regularly on your website, so having a blog helps you rank higher in the search results. A blog will also let you share your story with your audience and help you create interesting content to share with your collectors and fans on your social media accounts.
STAGE 3: CONSIDERATION

Once an art buyer has discovered you and learned a little bit about who you are and what you create, they may start seriously considering buying some of your work. This is a crucial stage for you this is the point where you definitely don't want them to walk away! So how do you keep a potential buyer hooked and convince them you're worth buying from?

How to inspire confidence in potential online art buyers:
Testimonials: Testimonials are a great way to promote your art, as they inspire trust in your product. Think about adding a Testimonials page on your website where you can showcase comments from happy customers. You can gather testimonials from the comments people leave on your social media accounts, or you can send a quick post or email out asking previous buyers to write a few lines about their experience. Even better, why not ask your collectors for a photo of your work in their space to add another level of authenticity and show new clients how great your pieces look in real life settings?

Social Cues: An interesting point that was brought up in the Hiscox Report was that collectors also take social cues such as 'likes' or 'follows' on social media into consideration when deciding to purchase from an artist. These social cues also inspire confidence, as they show that other people are interested in your art and keen to see what you'll do next. Earlier we spoke about social media being a great tool to help you drive awareness of your art… well this just reinforces it!
STAGE 4: JUSTIFICATION

If all the emotional connections are there, then an art buyer usually moves into a more logical frame of mind where they begin to justify buying a piece based on its value and physical qualities. Obviously selling online has its flaws, as your potential collectors do not have the opportunity to physically inspect your artwork. However, there are some ways to get around that.

How to appeal to an art buyer's logical side:

Offer a certificate of authenticity (COA) with each artwork. Typically a COA will include information about the piece including the title, mediums, dimensions, and a limited edition number if applicable. It will also include your personal signature as the artist. This adds value to your work and lets potential buyers know that you are serious about your craft.
Be thorough in presenting your artwork online. Include as much information as possible about each piece, and try to include multiple photos so that buyers can really get a good sense of what the piece looks like, it's dimensions, its true colouring and what it may look like in context to real life scenarios.
Make it easy for collectors to approach you and interact with you by including contact information on your website and social media accounts. Engage with your followers on social media, and try to be prompt in responding to any messages or emails. This helps you build relationships with a potential client, which can help you close sales.
STAGE 5: PURCHASE

Ok, so the collector has decided they like you, they like your work, and one particular piece has caught their eye. Now it's all about straight-up facts, particularly when it comes to pricing.

Tips on nailing the online art sale:
Make sure your artwork is clearly priced on your website. There is nothing more frustrating than scrolling through pages of beautiful pieces and clicking on one, only to find out that the price is missing. Don't make your clients jump through hoops emailing or calling you just to get a price. In fact, the Hiscox Report says, "88% of online art buyers find price transparency (that is, the clear labelling of prices and the possibility to check past and comparable prices) an essential ingredient when buying art online."

Provide clear and detailed information about shipping options. This could include the particular courier you use, shipping rates, packaging and estimated arrival times. You may want to give your clients various options when it comes to rates and speed of delivery. If you plan on shipping internationally, include guidelines on any customs duties the buyer may be responsible for. You may also want to provide your clients information on shipping insurance.

Implement a return policy. Buyers feel a lot more secure buying art online if they know they can return artwork that does not meet their expectations. We realise that this may seem like a risky policy to put in place, but as long as you are clear and transparent about your work and the conditions of your return policy, then it should be pretty rare that a buyer actually sends a piece back.
To quote the Hiscox Online Art Trade Report 2017 again:
"The large majority (80%) of hesitant online art buyers said that the terms of the return guarantee were important in their decision to buy art online sight-unseen. In fact, 71% said that having the option to insure the artwork at time of purchase would make them feel more confident buying online and 64% said that more information and choice about the shipping options would help in the acquisition process."
The more information you can give your potential buyers, the more professional you look and the more likely they will be to go through with the sale.
STAGE 6: AFTER-SALES

So you've made the sale—congrats! At this point, many artists might pat themselves on the back and call it a day, but actually, the after-sales stage is where you can really go above and beyond to add value and reassure your client that they've made an excellent choice buying from you. After-care service also keep the lines of communication open for repeat sales, fab testimonials and word of mouth referrals.
How to provide exceptional after-care service for your online art collectors:
Communication is key. How good does it feel when you purchase something online and the seller sends a personal message to follow up and make sure you're happy with the product? Little things can make all the difference in making your customers feel like they're getting next-level, personalised service. You may want to send a handwritten thank-you note or a small 'freebie' gift to express your gratitude for their business.

Send clients regular updates. Keeping your clients informed about your work is key to making repeat sales. We suggest setting up a newsletter or email blast that you can send out once a month to clients and potential buyers that lets them know what you're currently working on and info about any upcoming sales or exhibitions. Keep in mind though that some clients may not want to receive these, so make sure you ask first and include an opt-out or unsubscribe button on any information you send out.

Address Any Complaints Quickly and Efficiently. Ah, the dreaded complaint. No one wants to get them, and some are even unwarranted, but the way you handle them can make or break your standing with a client. Try to address any complaints or concerns a client may have as soon as possible, and resist the urge to defend yourself or get upset. Let the client know that you understand where they are coming from, and try to offer a solution that is beneficial for both parties.
So there you have it, the complete breakdown of stages that a hesitant online art buyer might go through, and some tips on how to handle each of these stages in order to maximise your online art sales. We hope this guide helps you take your online art business to the next level and gives you some great ideas on how to up your game!
Got tips of your own or want to share your personal experiences selling your art online? We would love to hear from you! Feel free to drop us a line anytime.