IN THE STUDIO WITH ARTIST & BLOGGER DAWN NICOLE
Creative Founders
January 17, 2018
Dawn Nicole has a way with words, whether it be her gorgeous typography and hand lettering or her always informative blog posts and books. We love the fact that she's a total go-getter who juggles full-time blogging, writing, creating and raising a family, plus she manages to squeeze in travel as often as possible. Dawn recently took the time to share with us some insights into her artistic journey and what it takes to turn your passion into a career.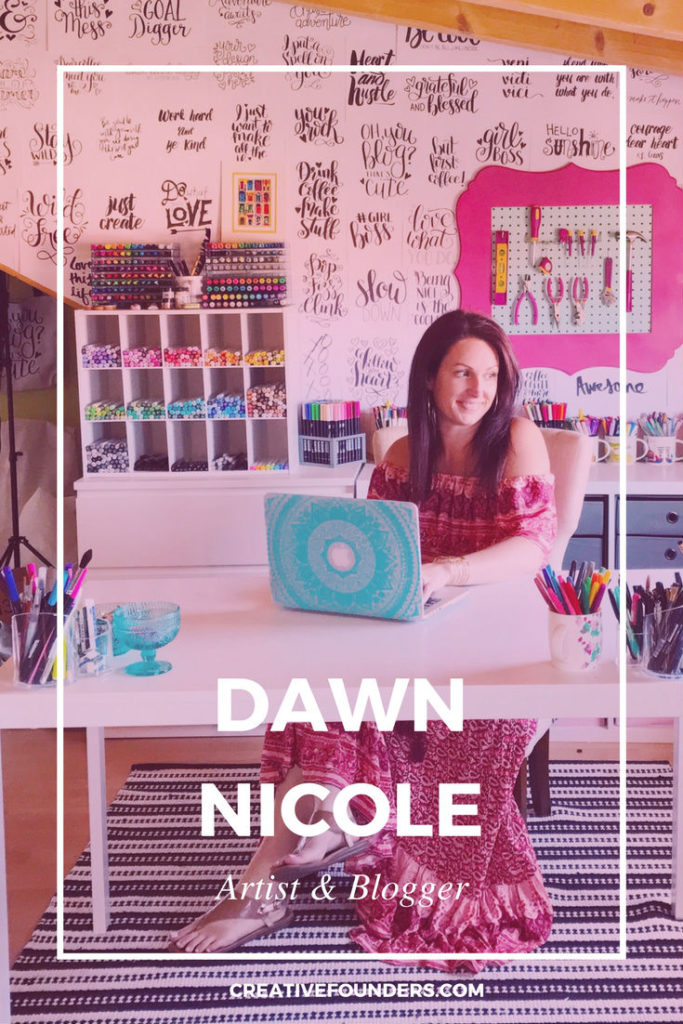 IN THE STUDIO WITH ARTIST & BLOGGER DAWN NICOLE
Hi Dawn Nicole, so tell us, how did you get into hand lettering?
Like many hand lettering artists, I'm largely self-taught. In design school, one of my typography instructors said I really had a knack for choosing and mixing type, and I just fell in love with typography. So I started buying books and practicing…and practicing a lot. It snowballed from there and I love lettering more than ever!
At what point did you know you wanted to make a career out of your creative hobby?
It was kind of a gradual shift from a hobby to a business. When companies and brands started reaching out to me because they'd seen my work on Pinterest, my mindset started to shift from treating it as a hobby to treating it as a business. All of the sudden I had to think about pricing, contracts, staying legal, and so many other aspects that go along with running a small business.

How did blogging come into the picture?
This blog started out (in 2011) as a hobby. I had no intentions of it being anything other than a creative outlet. With three kids under four, I was changing a zillion diapers a day and creating in stolen moments. Starting a business was the last thing on my mind, which is why I consider myself an accidental entrepreneur.
Can you tell us a little bit about the early days when you were just starting out? What were some of the biggest challenges you faced and how did you overcome them?
In the early days of blogging as a business the main challenge was that there was just so much to learn: legal aspects, search engine optimization, all the social platforms, etc. You basically just have to take it one day at a time. To this day, I keep a super long to-do list and I focus on attacking the three most important things on the list each day. It also helps to connect with other bloggers so you can brainstorm and vent with each other.

You now make over six figures from blogging alone. What are some of the most impactful steps you took to really accelerate the growth of your blog?
There are two big things that I think have made the most impact:
Focusing on growing my email list and learning about email marketing. Since email is the only thing you own (versus social media where you're at someone else's mercy), your email is an incredibly powerful tool for your business.


What are some go-to tools that you use to run your business more efficiently?

My top three tools for running my business more efficiently are easy to pick. I couldn't live without these services:

In addition to running a kick-ass blog and hand lettering business, you're also a military wife and mom to three kiddos. How do you find the balance between your work and home life?

It's a constant struggle but it's easier now that my youngest started Kindergarten, which means all three of my kids are in school full-time. I have a virtual assistant that helps me with social media and scheduling for both of my blogs. And hiring out non-business life things I incredibly helpful too. I have cleaning ladies come to do a deep clean once a month and use a meal service called HelloFresh to make meal planning easier. They deliver a box to my door once a week and it has everything I need to create 3-5 healthy (and delicious!) meals.

When you're not blogging, hand-lettering and writing, what will we find you doing?

We love traveling. Since we've been living in Europe, we've been able to travel to so many amazing places. A few of my favorites are Australia, Switzerland, Spain, Italy, and Prague!

I can often be found binge watching my favorite TV shows. I love all those crazy Real Housewives shows, don't judge  me!

Five to six days a week, I workout. I alternate running, HIIT workouts, and strength training.

Do you have any words of wisdom for other artists hoping to turn their artistic passion into a dream job?

Start a blog! Seriously, every amazing opportunity I've had has been a direct result of blogging. It's changed my life.

I get so many emails asking if I offer mentorships and blog coaching, I finally started a new website on Blogging as a Creative Business, Dawn Nicole Co. My first blogging course is in the works and you can read more about it here.

We love shining the spotlight on inspiring entrepreneurs like yourself who are rocking the creative businesses. Can you tell us about another female artist in your community who deserves a shout out and why?

Michelle of Michelle Hickey Design and Elegance and Enchantment inspires me in so many ways. Just to name a few: Her spirit of community over competition, her ability to adapt to an ever-changing business environment, and her design schools. She also teamed up with a designer friend started a passion project this year, A Podcast for Creatives, and I'm enjoying their podcasts so much.

Please check out Dawn's work and show your support!

Dawn Nicole Designs

Blog // Pinterest // Instagram // Facebook // Twitter

Dawn Nicole Co

Blog // Pinterest // Instagram // Facebook // Twitter