IN THE STUDIO WITH ARTIST MEGAN ELIZABETH
Creative Founders
January 18, 2018
Megan Elizabeth is a NYC-based artist who aims to capture moments such as dreamy seascapes, epic sunsets or interesting architecture in inspiring places. In addition to painting, she also hosts painting classes, participates in exhibitions and collaborations and manages to squeeze in family travel excursions whenever she can. Megan recently took the time to chat with us about her life as a creative entrepreneur.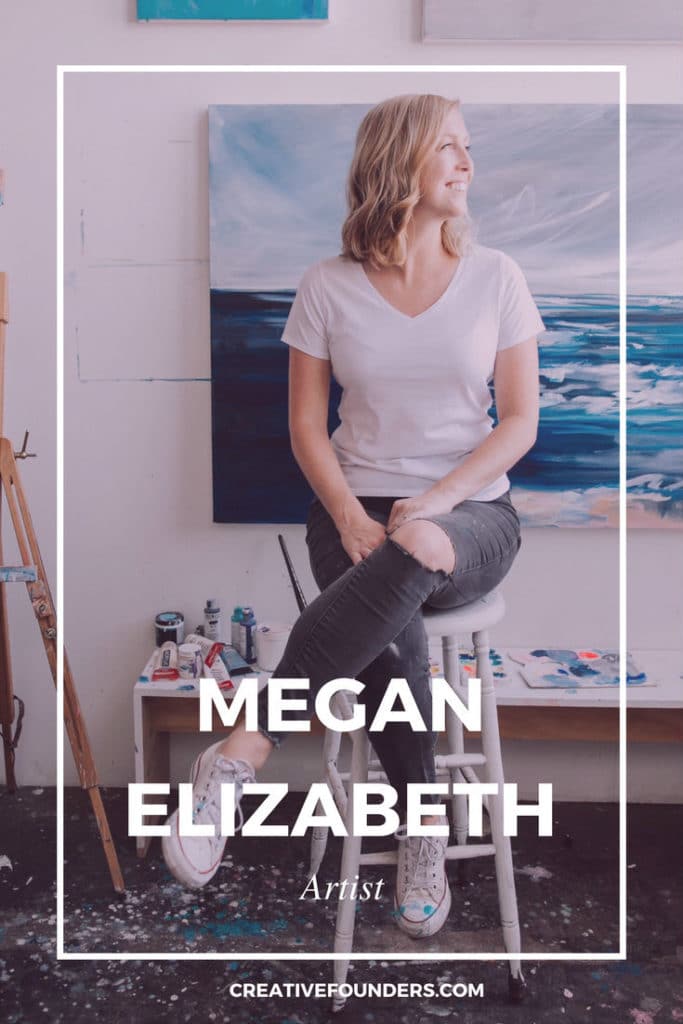 IN THE STUDIO WITH ARTIST MEGAN ELIZABETH
Hi Megan, thanks for chatting with us! So tell us, at what point did you know that art was your true calling?

Oh gosh, this question is so hard!  I don't think I know if it ever occurred to me that it was my true calling.  I think I just always loved it and couldn't stop making art.  It's like an obsession that I can't stop.
At one point you made the transition from being a full-time high school teacher to a full-time artist. That must have been a scary leap to take. What was it that really drove you forward to make that huge life change?
I did!  It was absolutely terrifying, to be perfectly honest.  Our family moved for my husband's job and it just made sense for me to be around more for my daughter, and a lucky side effect of that transition was that I was able to have the time and space to reinvent myself professionally in the process!  I am so amazed and thankful.  

What were some of the biggest challenges you faced when you were just starting out with your art career, and how did you overcome them?
My biggest challenges were aplenty:  I was really just starting from scratch.  I started a website (I didn't know how to build one) and a social media (I didn't know how to do Instagram), but I used as many of the skills I had acquired as a teacher in order to lend themselves to starting a business.  I also joined a group of creatives that changed my entire life.  We are called TuesdaysTogether NYC and I am SO THANKFUL for finding other creative entrepreneurs to travel through this journey of small business and creative life together.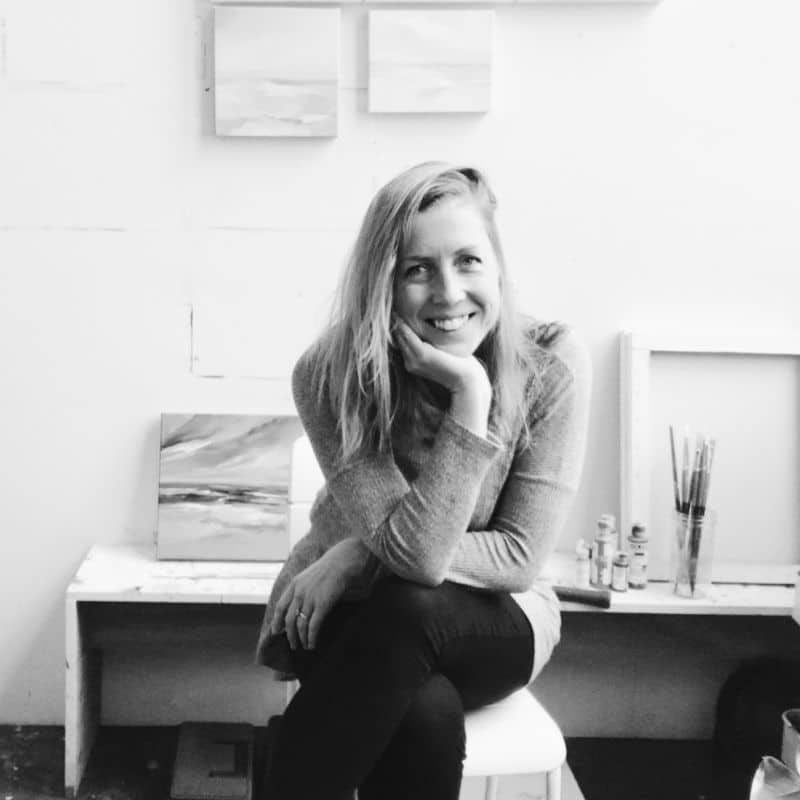 Besides creating gorgeous paintings and illustrations, you also offer painting classes. What could we expect if we joined one of your painting classes?
I love teaching and cannot escape that part of life either!  I love doing painting classes as a supplement to my business and find them to be lots of fun.  If you sign up for my classes, we do an introduction to mixing paint, a little bit of color theory, we talk about complementary and opposite colors and we paint an abstract ocean or petals on a canvas.  I find that starting with understanding the color palette and texture of acrylic paint really helps my students to understand the process more!  Also, I am launching online courses soon, so be sure to stay tuned to @artbymegan as the details unfold!!
Can you tell us a bit more about your upcoming online course?
Oops.  I have several "secret" projects going on right now – some of which are new courses, online classes, and new locations for my courses within NYC.  I am so excited, but, as always, I have to contain my enthusiasm and manage the details before anything can proceed.  I have become much more detail oriented as a business owner and it has really helped me!

Speaking of online art, we're loving your social media presence. Which social media platform do you find you get the most traction out of when it comes to selling your art and art classes?
Oh thank you!  I love connecting with others; I am a real people person.  I thrive on interaction and it doesn't really drain me – so I am like 89% extrovert.  I love that I have made friends all over the world online because of social media and it's even cooler when we are able to meet in person!!  For me and my business, social media is merely an entry point into my services – my paintings for sale and my class offerings are shared, but also I share a lot of funny moments from life, behind-the-scenes shots of my studio and mixing paint videos.  People love to have a little window into the life of a painter and I don't mind sharing it one bit!
 
Are there any other digital tools you use that have really helped you grow your business?
I love Planoly (@planoly) for social media scheduling and helping my feed to be more cohesive.  It has helped me to organize my time and photos so much!
I use VSCO app for photo editing and it has turned my otherwise ordinary photos into professional looking edited photos.  It only takes a little practice to get used to, as well!
I love Honeybook for managing my commissions and helping to formalize my client interactions.  It has really helped to streamline my processes! 
I also LOVE using Squarespace because it has helped to streamline and easily update my website so much!
And, if all else fails, I like to order a bottle of red wine from @minibar and eat dark chocolate.  Because wine and good chocolate helps too 😉
We're always in awe of artists who can run a full-time independent art business and raise a family at the same time. Where do you find the time and energy to juggle it all?
I am pleading the fifth on this one.  I don't do a good job of it.  No one who is a parent running a small business "balances it all", especially parents who live in places without family or lots of friends to rely on.  On MANY occasions, I have to pick my family life over building my business and honestly I wouldn't have it any other way! 🙂
Moms out there crushing your dreams and running small businesses – high five!
Dads, you too!

What is the best piece of advice anyone ever gave you?
My favorite quote is
"Be kind because everyone you meet is fighting a hard battle" by Aristotle.
 I love thinking that no matter what being kind is the resolution to every problem.  It helps me on my hardest days.
I also love thinking of the mantra by one of my favorite authors and world changers Father Greg Boyle, writer of "Tattoos on the Heart" about his work in LA with gang members and changing lives.  His mantra is "This. Here. Now".  It has been amazingly impactful on my separation of parenting from business.  It's helpful to remember to savor the small, fleeting moments in life.
As you may know, Creative Founders is all about shining the spotlight on inspiring creative entrepreneurs like yourself. Can you tell us about one female artist in your community who you think is rocking the art business and why?
I would love to highlight my studio mates Whitney of @Wegather and Betsy of @sylvanpark.  They are two incredibly hardworking, intelligent and kind small business owners in Brooklyn, NY who I admire for their business savvy, but more importantly for their ability to crush dreams while prioritizing what matters most.  I really am so lucky to have made such amazing friends like these two wonderful ladies!
Please check out Megan Elizabeth's work and show your support!
www.artbymegan.com
instagram.com/artbymegan
Pinterest.com/artbymegan
Photography by:
Amy Frances of Amy Frances Photography
Chi-Chi Ari of chichiarilove.com
Get Your Ultimate Hashtag Guide!
Share your details to receive your free ebook direct to your inbox!