9 THINGS EVERY ARTIST WEBSITE MUST HAVE
Creative Founders
May 07, 2017
These days every artist absolutely must have an artist website to stay ahead of the game. Sure, social media is a great way to market your art, but your artist website is your platform to showcase your portfolio and explain who you are and why you do what you do. Obviously, every artist's website is going to be different depending on their style and the type of art they create, but there are a few essential elements every artist website should have.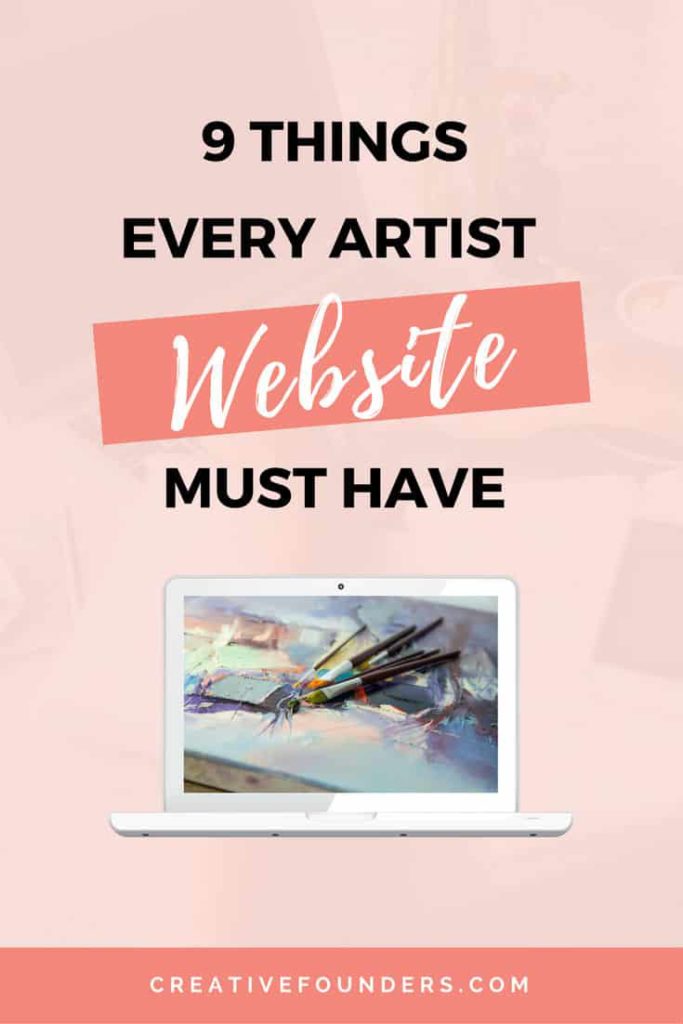 9 THINGS YOU NEED ON YOUR ARTIST WEBSITE
1. Your Portfolio (or online shop!)

The main point of your artist website is to showcase your artwork and hopefully make some sales, so you want to make sure that your art is the focus of your site. There are many ways you can choose to set up your portfolio, but in general, you probably want to have your best pieces displayed on the home page, and then a gallery divided into clear and concise categories that are easy to navigate. If you are selling your artwork online, your shop can also be your portfolio.
Don't forget to make sure that your photos are properly sized for the web so that they load quickly (ideally under way under 500kb), and that each artwork is labelled including the title, medium, dimensions, year of the piece and price if it is available for sale. It also does not hurt to include a brief description of your inspiration behind the piece as people love to know the story behind an artwork.
You may like our post: How to convince the hesitant art collector to buy your work online
2. Your Artist's Bio & Artist Statement

Next up on your list of website priorities should be your artist's bio where you describe who you are as an artist and your artist's statement where you describe what your art is all about. Most artists do this on their About page along with their CV. Try to keep it simple and straightforward and leave the artsy jargon to a minimum. Just include the basics like where you're from, what kind of work you do, what inspires or drives you, and any past accolades and current projects or collaborations you're working on.
3. High-Quality Images

Brilliant photography will grab attention, draw people to your art and present your artworks in their best possible light. The most striking images are those that are crisp, clean and full of life. There are many ways you can achieve this even with simple product shots. Lighting is definitely important. You want to make sure that your lighting highlights the colours and lines of your work.
When you are photographing your artwork for your website, we always feel it is nice to have a selection of shots, to really showcase the piece to the potential customer. Think about taking detail shots, a close-up of the full artwork and also styled shots.  Potential customers love to visualise how your art may look in their home.  If you are showcasing your artwork framed, be sure to clearly state that the framed works are for display purposes only if the artwork is not sold framed.
TIP: If your artwork requires a frame, but you are not in the position to frame every piece, think about purchasing a few frame stock photos. Check out sites like Shutter Shutterstock and search for 'frames' or 'frame on wall'.
Read our Beginners guide to photograph your art like a pro!
4. A Newsletter Opt-In

Growing your audience on Facebook, Instagram and Pinterest is amazing, but your followers may come and go. Plus, they're not all necessarily going to buy your art. However, your email subscribers are much more personal. They're the people who have given you something very important to them…their email address and they did so most likely because they're interested in your work.

It's a nice idea to think that people are going to loooove your site so much that they'll want to sign up right there on the spot, but the truth is people don't just hand their emails out willy nilly. You need to create something enticing to give your subscribers in exchange for their email addys. This is often called a lead magnet and it can come in the form of a free eBook, resource list, email course, discount, or the chance to win a prize. 
Learn the email list building essentials to sell your art online
5. Testimonials

Think about asking your customers for testimonials to showcase on your website.  When clients share testimonials they often share details about how your artwork inspires them or reminds them of a person or experience. A client testimonial helps build trust with your potential customers and it also helps to build a story around your brand.
6. A Blog

Many artists overlook the blog, which is a mistake because this is a great way to engage with your audience and boost your SEO. Your blog is your platform to make announcements about upcoming exhibitions and new collections or pieces, and it gives you the opportunity to show your fans your more personal side. Also, the more shareable content you have that is related to your artwork, the easier it will be for search engines to rank you higher and new clients to find you when they do Internet searches for art like yours and artists like you. Look, you don't absolutely have to have a blog, but we really think a great blog helps drive awareness of your work.
Here's why you need to become a storyteller to sell your art online.
7. Social Media Buttons

We're assuming that you already have at least one or two social media accounts set up to market your artwork. If not, then you definitely need to get that ball rolling because social media is the easiest and most cost-effective way to market your artwork and your brand. It's also a great way for people to get in touch with you and share your work. By including social media buttons on your site, you make it easy for people to follow you, message you, and share your work with other people.  
8. Contact Information

You'd think this would be a given—after all, how else are people supposed to get in touch with you to purchase your work, commission new pieces, or book you for an upcoming show? Well, you'd be surprised how many people either forget to add these incredibly important details on their site or make them super difficult for people to find. We suggest adding your contact page to your site's main menu, and then clearly displaying a form to contact you via email, your telephone number, gallery address (if applicable) and social media icons on your contact page in addition to your contact form.
9. Press Page

As you grow your art business your artwork may be featured on websites and publications. Once you have a selection of press clippings it makes sense to create a Press page on your website to showcase photos and links to your different features.  Potential customers will love to check-out your press page as not only will it help to build trust, but it adds another element to your artist story.
Tip: If you are featured in the press, it is always nice to post this feature on your social media to share with your community and to tag the publication as a thank-you for supporting your art business!