8 BLOGGING BOOKS FOR CREATIVE ENTREPRENEURS
Creative Founders
October 21, 2017
As an artist and creative entrepreneur all you want to do is build the business you love by creating the work you adore, but sometimes it can be daunting learning all about setting up and growing your online business. One thing we often get asked about is blogging. There are tons of websites out there offering great blogging tips, but if you're anything like us, there are times when you feel like you can't look at your computer for another second, and cherish just sitting down with a good book and a glass of wine. These are some of our absolute favourite blogging books, so grab a glass, dive in, and stoke your passion to help you grow your audience!
*This post contains affiliate links. If you are happy to click on an affiliate link and support Creative Founders, thank you. You can see our full disclaimer here.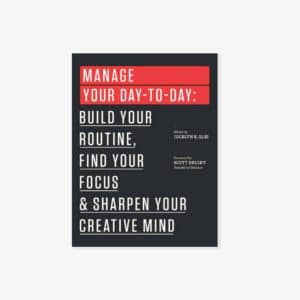 Manage Your Day-to-Day: Build Your Routine, Find Your Focus, and Sharpen Your Creative Mind
How many times have you worked your butt off all day only to realize at the end of it that you haven't achieved half of what you set out to do? This handy productivity book offers some great tips on how to manage your time, avoid information overload and let your creativity blossom even amidst all the distractions of the digital age.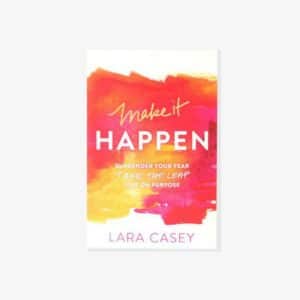 Make it Happen: Surrender Your Fear. Take the Leap. Live On Purpose.
If you're thinking about embarking on a new venture, but worried about whether you can actually do it without burning the candle at both ends, then Make it Happen is an inspiring read. Here author Lara Casey shares her personal journey of how she took the leap to create the life she wanted, pursuing her passion while raising a family and surrendering her fear to a higher purpose.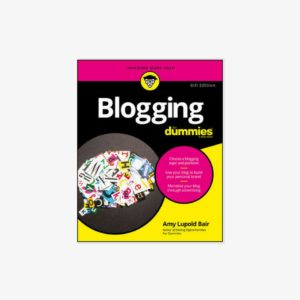 Blogging For Dummies
Are you new to the whole blogging game? Don't worry, we know how overwhelming it can be! This step-by-step guide walks you through the basics of setting up a blog from choosing a domain name to writing your first post and setting up a content schedule. Definitely a must for first-time bloggers!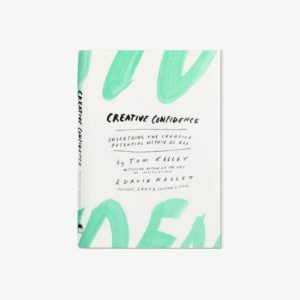 Creative Confidence: Unleashing the Creative Potential Within Us All
Brothers David and Tom Kelley believe that everyone has the potential to tap into their creativity to better their professional and personal lives, and in Creative Confidence they share stories about their own journey creating IDEO, as well as actionable steps you can take to be more innovative, break out of ruts, and use your creativity to reach your full potential.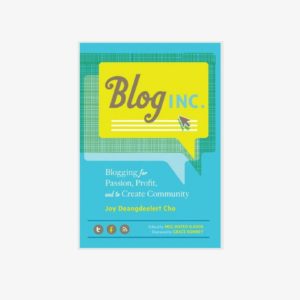 Blog, Inc.: Blogging for Passion, Profit, and to Create Community
Whether you're an absolute blogging newbie or just looking to take your blog to the next level, Blog, Inc. is a straightforward guide on how to start and grow a blog from bare bones to a money-making machine. Joy Cho offers some amazing tips on everything from building a fanbase to avoiding blogger burnout, monetizing your blog and more.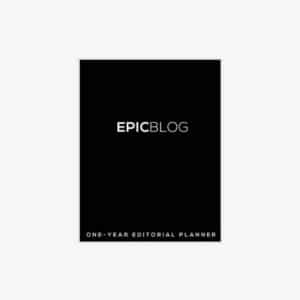 EPIC BLOG: One-Year Editorial Planner
We're not ashamed to admit that when we first started out, we were pretty all over the place when it came to planning, creating and scheduling content. Had we gotten our hands on this amazing planner back then, we would have saved ourselves countless hours! With monthly calendars to plot out your content, plus pages to plan monthly goals, track progress and brainstorm, this is the ultimate tool to help you hone your focus.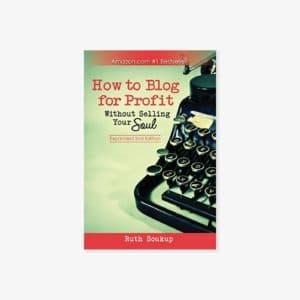 How To Blog For Profit: Without Selling Your Soul
We've all seen those spammy sites where it's so obvious they're just trying to sell you stuff, and we imagine you definitely don't want your site to be 'one of those'. But that doesn't mean you can't earn a living doing what you love. This blogging book offers practical advice about making money with your blog while still remaining authentic.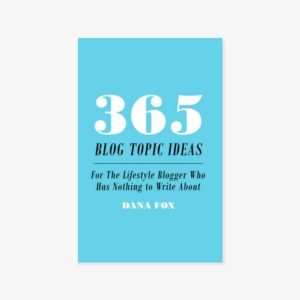 365 Blog Topic Ideas: For The Lifestyle Blogger Who Has Nothing to Write About
It happens to even the best bloggers out there—the dreaded blogger's block. If you're stuck for ideas about what to blog about, this easy-to-read book offers a whopping 365 blogging ideas to kick you into gear and get you writing again. That's one idea for every day of the year!

OTHER ENTREPRENEURIAL BOOKS TO CHECK OUT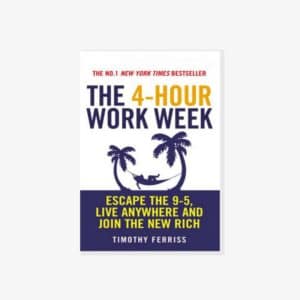 The 4-Hour Workweek: Escape 9-5, Live Anywhere, and Join the New Rich
You've probably already heard about Tim Ferriss' ground-breaking book about leaving the 9-to-5 behind and creating the job and life you've always dreamed about, but if you haven't read it yet, then definitely get on it!  While it's not exactly about blogging, we think it is an important one to have on the list, as it's packed full of tips and tricks on how to be more efficient in running your business. This is a must-read!!


Content Inc.: How Entrepreneurs Use Content to Build Massive Audiences and Create Radically Successful Businesses
Because content marketing or 'storytelling' really is the foundation of any creative business, we this book is particularly relevant for anyone working on growing a blog.  Also be sure to check out our post on 'Why you need to become a storyteller to sell your art'.



#GIRLBOSS
Sophia Amoruso has had a pretty incredible life, going from dumpster diving to running a multi-million dollar online fashion retail company. Her style of writing is funny and witty, and her story just goes to show that there is no one-size-fits-all route to success.


BLOGGING EBOOKS & ONLINE COURSES
Building a Framework: The Ultimate Blogging Handbook
Ok ok, we know that we mentioned not looking at the computer, but this online course is worth checking out because it walks you through every step of setting up your blog with tech tutorials, and video modules, plus it guides you through creating great content, setting up an email list, monetizing, building relationships and maximizing your social media marketing.
Building A Framework: The ultimate Blogging eBook