WHAT I'VE LEARNED FROM PREPARING FOR AN OVERSEAS ART EXHIBITION
Creative Founders
August 10, 2017
Guest post by Hong Kong based French Artist Ophelia Jacarini
Exhibiting your art can be a pleasure, especially the opportunities that can come out of showcasing yourself and your work. But like anything, such an event can often be all-consuming. I was recently invited to showcase my work in a solo exhibition at Villa Barone Alfieri in Sicily from 1-10 September, so I am currently preparing for my European visit. Here's what I've learned from preparing for an overseas art exhibition.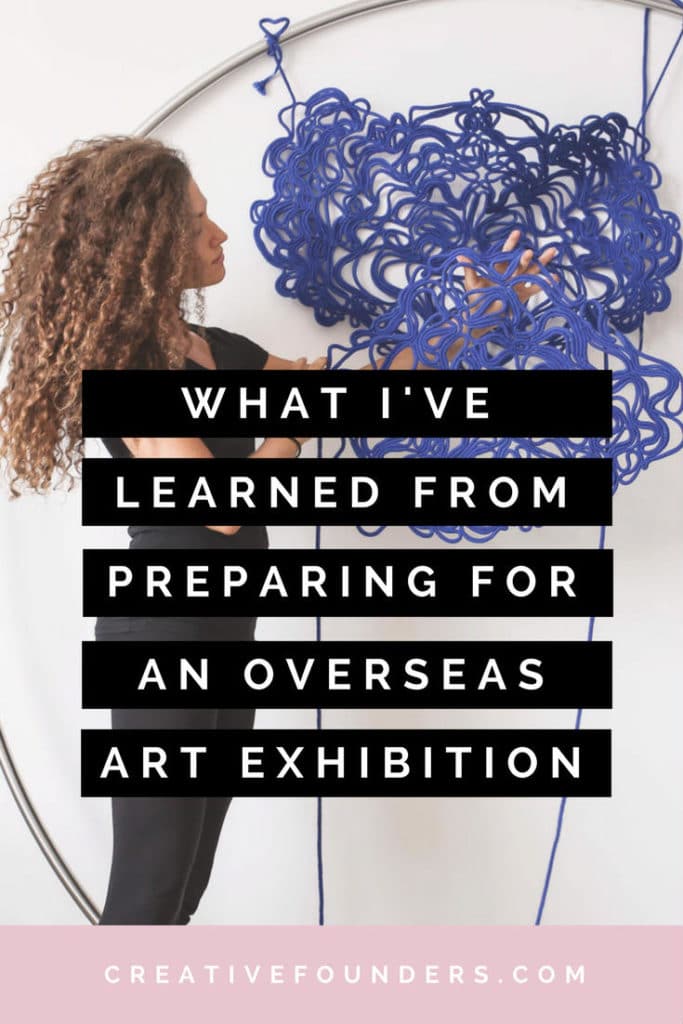 WHAT I'VE LEARNED FROM PREPARING FOR AN OVERSEAS ART EXHIBITION
COMING UP WITH A CONCEPT
Coming up with a concept for new work to showcase at an art exhibition can seem daunting at first, but I find that sometimes past work can inspire new ideas and pieces.
The concept for this particular show was inspired by my last exhibition where I was showing artworks that were both aesthetic and diagnostic. My interest was partially to record psychic maladies and how differently wired brains might work. I took inspiration from addiction, hallucinations, social issues, anorexia, bipolar disorder and schizophrenia. A visitor to my show was intrigued by my inspiration and asked me why I wasn't making art that could go into hospitals? Just like that, her question gave me my next subject.
CREATING YOUR BODY OF WORK
Every artist has different methods for producing their work, and each method really depends on the desired outcome, so I don't have any set-in-stone solutions for facilitating the process. However, I can give a glimpse into my own process for this particular exhibition.
First, I read a lot about soft medication and meditation as treatments and learned that in some meditation practices, the sound of water relaxes the mind. Some hospitals even have water incorporated into their architecture so patients can see and hear water, so from there I imagined a sculpture. I don't have the pretension to say I'm going to save people from cancer or any kind of sickness with this artwork but at least if they can feel relaxed and calm by looking at my installation, then I will feel that I have accomplished my goal.
I'm also driven to show that my art has been inspired by fascinating subjects. I think we are all 'sick' in some ways, and sometimes it is more or less visible. I probably chose to create in order to save myself from my 'dark' sides. Who knows? I'm led to believe that there is no difference between my eccentric side and my professional artist side when dealing with matter and materials.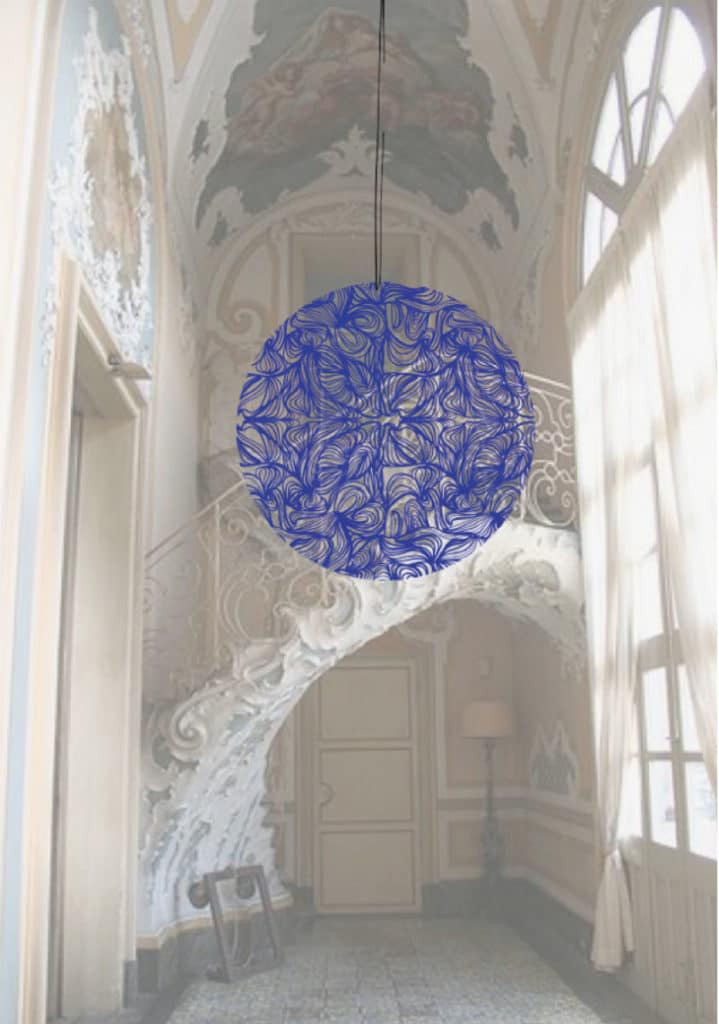 LOGISTICS
Besides just creating the artwork, there are many other things that I've been dealing with to make this overseas exhibition happen. These include booking plane tickets, shipping the artwork to Sicily and organising transportation, as well as details like where the installation will hang, how it will look and what tools I will need to handle the installation. I definitely recommend making a to-do list before you go so that you have everything you need once you arrive. I feel it is better to be over prepared.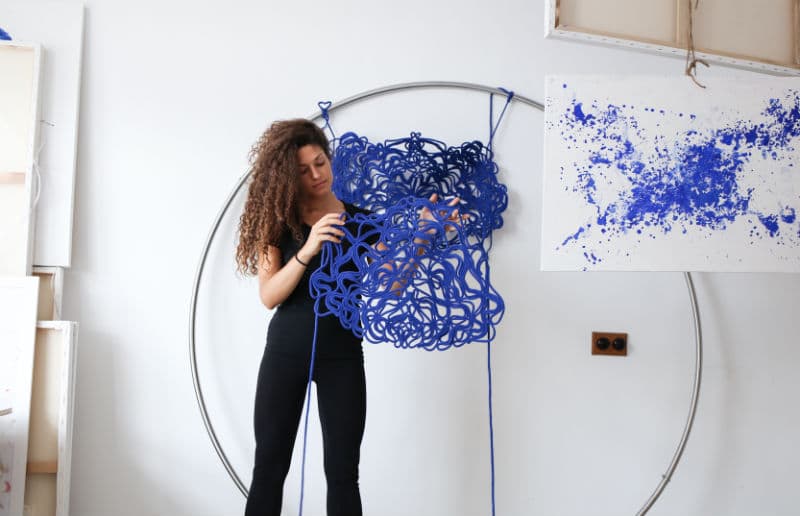 MARKETING
Well of course, Villa Barone Alfieri is helping to promote the event through their own channels, but on my end, I've been reaching out to partners I know (like Creative Founders) and I am trying to drive awareness of my work and the upcoming exhibition. Social media is definitely one avenue to do this, and even this guest post is a great way to get the word out!
WHAT I'VE LEARNED
I am still a young artist and this is my 3rd solo show. From my experience, the advice I can give to other artists is not to hesitate to share what you want to do and not to immediately accept projects that people offer you. If someone approaches you with a project in mind it is because this person likes your work, so don't be afraid to suggest changes to the original project offered to create another one you like more! Also, I am experiencing a big stressing period right now because I did not start early enough to work on the artwork I will exhibit and I am running late now so I would say that my best tips would be, don't be afraid to be early! Start planning immediately, create a timeline with targets and stick to them. There will undoubtedly be surprises along the way, but if you are organised I feel you will be better able to manage all the tasks at hand.
ABOUT MY UPCOMING EXHIBITION
It all started when I met Emanuela at Art Basel in March and she told me about this project she had in mind where she wanted to invite an artist to Villa Barone Alfieri to share their version of the creative process and give visitors a glimpse into the life of an artist. I told her I was interested, and from there it all happened very fast. I was already working on the subject of inspiration, so I realised that this project offered me the opportunity to do a proper art installation on that subject.
The show is called Atelier Ophelia, and it will showcase the therapeutic power of art and allow visitors to be part of the creative process by creating group artwork with their preferred materials to demonstrate that everyone, without necessarily being a professional artist, can create a piece of art and experience the benefits of creativity on physical and emotional well being.
This will be my first time exhibiting in Europe, and I'm really excited about the show and can't wait to get feedback from the Italian people about my work!
Atelier Ophelia
1-10 September 2017
Villa Barone Alfieri
Località Recupero
97016 Pozzallo
+39 334 3218835
Check out Ophelia Jacarini's work and please show your support!
www.ophelia-jacarini.com
www.instagram.com/jacariniophelia