IN THE STUDIO WITH ARTIST HAYLEY QUENTIN
Creative Founders
July 23, 2017
Los Angeles-based artist Hayley Quentin uses watercolours and oils to create portraits and figurative paintings of male subjects that are both ethereal and edgy. Both her subject matter and her techniques challenge the way men are typically represented in contemporary art. We had a chat with Hayley to find out more about her life, her vision, and her career as an artist.
 
IN THE STUDIO WITH ARTIST HAYLEY QUENTIN
Hi Hayley, thanks for chatting with us. First up, can you tell us what you were like as a child? Were you always artistic or did this come later?
I was always drawing,  as young as I can remember. I loved looking at people and bodies and how faces looked at certain angles; how I could see the veins under the skin. I was very lucky to have my creativity fostered and took many art classes, including figure drawing, when I was young as well.
When you first decided to enroll in art school, where did you see your studies taking you? Did you have a solid plan for a career in art?
Though I was always drawing, painting, making art, I really made the conscious decision to attend an art school when I was about 15 or 16.  I knew I wanted to study art but I was very naïve and didn't have a clear idea about what that might be like. I decided to do a year at a community college (Santa Monica College) and transfer to an art school. I had my heart set on one- Otis College of Art and Design. It was the only school I applied to but I was incredibly lucky that it worked out for me. It's also where I started painting male nudes- exploring my own poetic view of the world, unabashedly and head first. I wasn't even quite sure what I had at the time. My work scared me and thrilled me at the same time and I knew that meant I was going in the right direction. Attending art school gave me a clearer vision of what I wanted my post BFA life to be like, but it took many years before that would start to become a reality.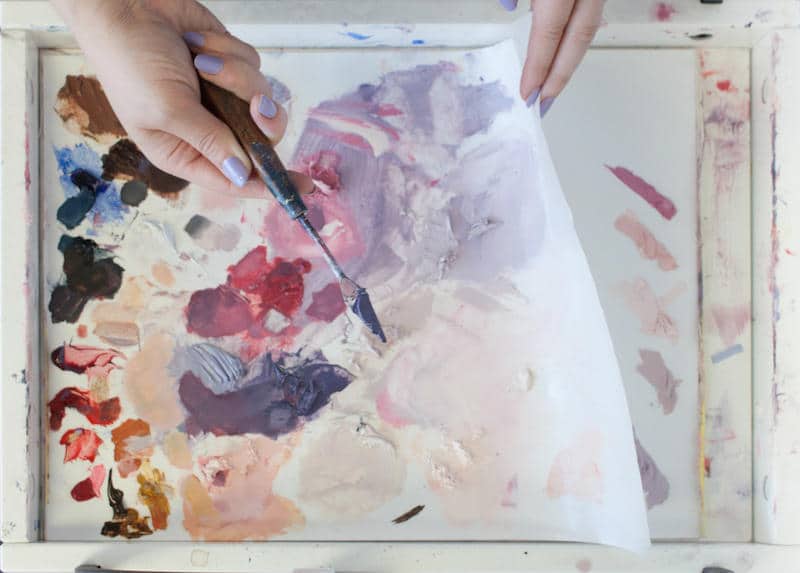 After receiving a BFA with honors from Otis College of Art and Design, you spent seven years working and living in Europe. How did this influence your artistic practice?
While I was at Otis I was very wrapped up in the idea/trope of the modern dandy, and therefore enthralled with an idealized version of the UK and Europe and how these places had produced such a figure. I had a misplaced feeling of not quite nostalgia, not quite dreaminess that seemed almost magnetically appealing to me, like a planet in orbit. I felt almost obliged to leave Los Angeles and move to London, almost like I didn't have a choice in the matter. Of course, the reality was so very different to my daydream. London is an incredibly expensive city where I had to work multiple jobs simultaneously to pay the rent. Moving there alone was the most challenging thing I have ever done, but London is also the city that changed my life.  I needed to change everything about my surroundings to figure out what I really wanted in life and as an artist. It actually resulted in me not making my own work for quite a while! I lived in London from 2009-2014, and for a portion of that time I did have a studio, but I was only making pieces sporadically, directionlessly, unknowingly. Instead of focusing on my own work I collaborated with a good artist friend of mine, Juliacks, on some of her incredible films. It was interesting investigating my artistic identity while not making my own art.
After London I moved to Lyon, France in 2014. While there in the summer of 2015 I had a personal renaissance. I realized that art was the only thing I wanted to do, could do, needed desperately to do.  That summer I made more work that I had in years prior combined. I didn't even have a studio! Just a wall in a small apartment that I shared with my husband (then fiancé). I solely concentrated on making a body of work, investigating my artistic practice and what I wanted it to be. I moved back to LA in 2016 and so I do not think I would be the artist, the person I am, without those experiences abroad.

What are some the differences (if any) you noticed between the contemporary art scenes in Europe and North America?
Now, this is something that people often want to know, and I have to say that I am not the authority on this subject! All I can give is my own narrow slice of life observations that have much more to do with my own productivity or involvement with each city's art scene and are hardly conclusive. So, I felt that in London more people made seeing art a part of their daily lives, but mostly from large institutions, museums, and very big name galleries. In Lyon, the scene was much smaller, and felt very niche (to be expected as it's not the country's capital city), and rather overshadowed by the large independent and experimental music scenes in the city. However, I was living in Lyon during their 2015 Biennale which I have to say was absolutely amazing to experience. Now that I'm back in Los Angeles, I feel that I am in the best city in the country for contemporary art. It's exciting and vibrant and it feels like there is an incredible amount of potential here.

You aim to challenge the conventional representation of male beauty and eroticism in your work. What inspired you to take on this subject matter?
Simply, I like to look at men, see their beauty, recreate the pleasure of looking with the pleasure of painting, perhaps conflate the two, and then multiply this yet again when the viewer takes pleasure in looking at the paintings.  I want the viewer to feel compelled to look. I want to create something so beautiful that they can't look away, despite the subject matter.  The unquestionable dominance of the male gaze elicits the idea that there is no possibility for change, or that every alternative attempt will fall back into some form of cyclical reasoning, where nothing has changed.  It seemed strange to me that there was such a void in not only contemporary art but also contemporary culture, for a woman's perspective on the representation of men. I am enthralled with other artists who also take on this same subject (and there are some greats- Elizabeth Peyton, Nicole Wittenberg, etc.). It seems a lot like the last frontier- the representation of men, for the pleasure of looking, by a woman.


What do you hope people take away from your work?
All painting is an elaborate myth of depth, and I find it very appealing to have signifiers of this illusion- overly saturated colors, changes in the thickness of paint, changes in application of paint. Taken on their own, each element or representation could be believable, if only for a moment. I want to rest right on the edge between illusion, believability, and breaking the spell.  Hopefully this will lead the viewer to realize that all representation is an illusion, all our constructs of beauty and gender are illusory.  When the viewer walks away, I want them to take with them a keen sense of awareness that a woman created these paintings – and also that they were created from nothing.
In your opinion, what are the three most important things an artist must do if they want to sell their artwork?
I think it is more important for artists to focus on making good work, work that is challenging even if it might not sell.  Every artist has an audience that will be eager for your work. Who do you make work for? Make good, strong work that matters to you, and challenge yourself and your viewers. You might not be the most commercial artist but you will be proud of the work that you sell.
If you could go back in time to when you were just starting out, what advice would you give yourself?
Don't be so afraid! I was scared to do anything- I thought everyone knew more than me, was better connected than me, made better work than me, I had the ultimate imposter syndrome. For a while I let this stop me from going after what I wanted. I had a moment of clarity: art doesn't exist in this world without the artist creating it, and an artist's career doesn't exist without the artist creating it, too. Meaning, being an artist doesn't have a clear path. It isn't for the faint of heart, it isn't for those who want something that's clearly definable that someone can neatly fold up and place in your lap. It's full of rejection and uncertainty. An art career is cobbled together by your own ambition, boldness, and vulnerability and lots of help, good timing and luck.  The best advice I could give myself is: try everything, talk to everyone, be honest and open. I try to remember this advice every day.

When you're not working in your studio or as faculty at the Brentwood Art Center, what would we find you doing?
In the past year I've become somewhat interested in gaming- an avenue of entertainment that I felt was very inaccessible to both beginners and women. I found that in reality there is such a glut of new and different indie games that there really is something for everyone. My favorites include Undertale, OFF, Ib, and above all else, Night in the Woods. Anyone paying close attention to the titles of my paintings will notice a technological influence, so perhaps this interest is not as unexpected as one might think.
Finally, we love shining the spotlight on inspiring artists like yourself. Can you tell us about one other female artist or creative entrepreneur in your community who inspires you and why?
Absolutely! I love the work of Julia Montgomery; she's a fellow Otis Alum and we are also colleagues at the Brentwood Art Center. She's a painter and sculptor, including welding, a typically male-dominated medium, which, frankly, is very cool. Her work ranges from incredibly detail oriented pen and ink drawings, to experimental watercolors, and large scale sculptures. She's fearless in trying new mediums and subjects and seeing her work span so many different avenues really inspire me, especially to be more experimental in my own practice.  
Check out Hayley Quintin's work and please show your support!
www.hayleyquentin.com
www.instagram.com/its_hayleyquentin