IN THE STUDIO WITH ARTIST AMANDA MICHELE
Creative Founders
July 23, 2017
Amanda Michele is a Brooklyn-based artist and graphic designer who creates cool, colourful abstract pieces using mainly watercolours and pens. She also has a kick-ass blog where she gives herself monthly art challenges and posts interesting articles about her artwork, inspiration and life. We recently caught up with her and asked her to spill the beans about her processes and artistic path.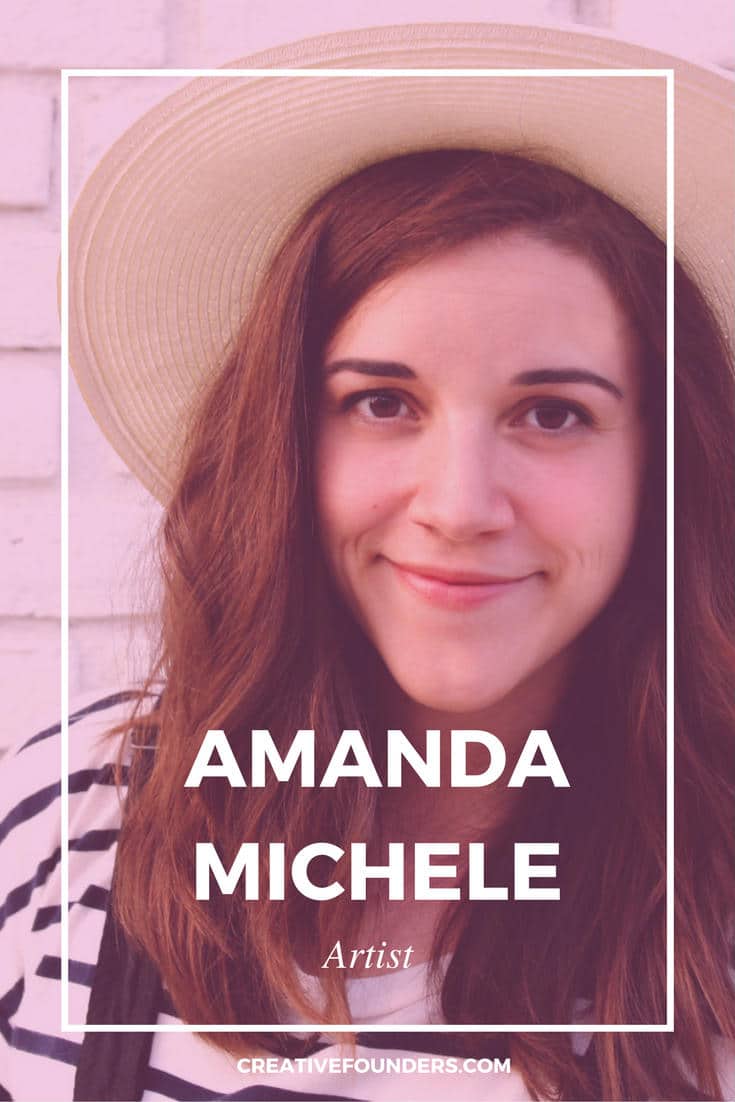 IN THE STUDIO WITH ARTIST AMANDA MICHELE
Hi Amanda, thanks for taking the time to chat with us. Can you tell us a bit about your background? Did you grow up in an artistic family or an artistic environment?
The joke in my family is that artistic talent skips a generation. Both my grandmothers painted, mostly landscapes and still lifes, as hobbies. And my mother, who is very creative in her own right, has always been super supportive. From a young age, I was encouraged to create but I didn't know of anyone who made a living as an artist. I don't know if I even thought that someone could really be a professional artist (and not be constantly struggling) until much later.
Was it an easy decision for you to pursue art as a career, or did you have doubts about being able to survive as a 'starving artist'?
Definitely not easy. Even though I had been making art since forever, I originally made the "practical" decision when I went to college to major in Biology (a subject that still inspires my work today so it sorta worked out). I thought I had to go into something in the hard sciences, graduate and get a "real" job. I found Biology very interesting so I thought why not that? It wasn't until I created a painting of a plant cell in the stages of mitosis and my botany teacher BOUGHT it from me, did I realize that maybe this art thing had some potential.
I switched my major to Art the next semester. It was my professors in the Dept. of Art & Design who showed me that making art and a living was possible and that everyone has a beautiful winding path that leads them to where they are today.

You describe your art as a "balance between chaos and order" and " a form of problem-solving".  Can you tell us a little bit more about your philosophy and process?
I sort of came to this backwards. I feel like most people start making a piece of art with an idea of what they are trying to do and what their work represents. Every time I tried to do that it just felt forced and my work just didn't feel like my own. So I eventually gave up trying to push it and just started creating to see what would happen.
After a while, I started noticing patterns that kept coming up in each piece. So I asked myself why I kept following the same process? What drew me to flowing brushstrokes and intricate pen work? Where were these colors coming from? You would think that you would know these things going in but I had to do a lot of digging.
The problem solving comes in later. After I started to understand my own art I really focused in on those patterns. Then the challenge becomes: I know what I'm trying to do, how can I do it better? How do I get at the heart of this? I think each decision we make as an artist is problem-solving, to be honest. For me, what I'm after is a balance between opposites both visually and emotionally.
In addition to having your own artistic business selling your paintings and prints of your work, you also have a day job as a graphic designer. You must put in some seriously long days! How do you manage to find the time to do both?
Some days I'm not sure I do! But I am very lucky to work as a graphic designer for an amazing organization called Pencils of Promise, an education non-profit that works in Ghana, Guatemala, and Laos. I love the work that Pencils of Promise does, the impact we make around the world and the creative work I get to do for them so it doesn't feel like work most of the time. And honestly, even if I didn't also sell my art and post it on social media and all that extra stuff, I would still be making art so no time saved there! Really the trick is to do it all with joy. I couldn't be happier doing exactly what I'm doing.
Oh and also being hyper-organized and goal-focused doesn't hurt, but joy is #1.
We love that your website is so much more than just an e-commerce site, and we especially love the monthly art challenges on your blog. Can you tell us more about those? What sparked the idea, and how do you come up with the challenges each month?
I'm so glad you like them! I just started those this year after I started to feel a little stagnant in my work. I've been out of school now for a couple of years and I was missing how my art classes would push me and help me grow as an artist with each new assignment.
Back in January, I thought about what challenges I could give myself that would be either fun or terrifying and helped me work though, what I thought we weak areas of my art. Each month I focus on one of them when I'm making my work. So far my favorite challenge has been to Find Unexpected Color but there's still a few months left, we'll see what happens!
We've been following you on social media, and we're definitely not the only ones! You have over 290,000 followers on Pinterest and over 9,000 followers on Instagram. How important do you feel social media is for driving awareness of artists?
I think that we are in a new era of being an artist and social media is the reason why. It used to be that we had to rely on galleries to help us get our work out to the world. They were the gatekeepers and if they didn't like you, well too bad. To me, it's very empowering that we now put our work right in front of the eyes of people who appreciate what we are doing without that filter. I would still be selling my art to just my Mom if it weren't for social media.

Do you have any social media tips or advice you can share with other artists looking to increase their reach?
Be consistent and be honest. Making a habit out of sharing my process was really transformative, not only for my social media reach but also with how I think about my work. On Instagram, I slowly built my following by sharing regularly, the good stuff and the bad and letting the right people find me. In the end, it's not the number of followers but the quality of people following you. By staying honest and not taking the quick route to a bunch of followers my engagement is very high and it feels more like a supportive community than a number on the screen.
If you could go back in time to when you were just starting out in your artistic career, what would you tell yourself?
Start now! Don't wait until things are perfect to share your artistic journey with the world. Take people along with you as you grow. It will never perfect and that is part of the magic.
Where do you see yourself 20 years from now?
Yikes! I don't really ever think THAT far ahead. I know that life is full of twists and turns and I will probably end up somewhere completely unexpected, but in 20 years, my ideal would be to be happily creating art, loving my husband and family and having a new adventure every chance I get.
We love shining the spotlight on inspiring artists like yourself. Can you tell us about one other female creative entrepreneur in your community who inspires you and why?
I would love to! I'd love to give a shout out to Megan Elizabeth of Art by Megan. She's a definite role model when it comes to making art, living your dreams and lifting up others along the way. Her work has got this dreamy, beach vibe that you can just get lost in. She's really great!
Check out Amanda Michele's work and please show your support!
www.amandamicheleart.com
www.instagram.com/AmandaMicheleArt
www.pinterest.com/AmandaMchlArt
www.facebook.com/AmandaMicheleArt